Submitted by

lara.walker

on Wed, 10/02/2019 - 09:23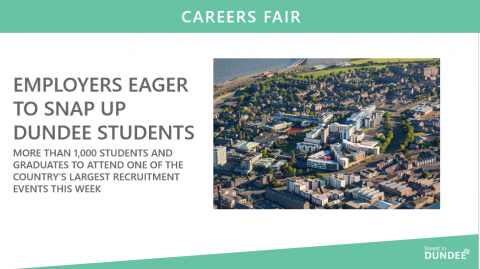 More than 1,000 students and graduates will take the next steps on their career paths when the University of Dundee hosts one of the country's largest recruitment events this week.
Some of the world's biggest names in finance, broadcasting, education and manufacturing will be among those represented at the 2019 Dundee Careers Fair, which takes place at the University's Bonar Hall on Thursday 3 October.
The flagship event provides visitors with the opportunity to discuss job opportunities, including graduate schemes and internships, face-to-face.
Richard Pool, the University's Employment Engagement Manager, said that the number of new employers attending the event reflected the high esteem in which Dundee students and graduates are held.
"As the global reputation of the University of Dundee grows, so does the size of our annual Careers Fair," he said.
"The world's biggest organisations want to employ highly qualified, motivated individuals. Attending our Dundee Careers Fair allows companies to meet with our student community, highlight the opportunities available via their University of Dundee qualification, all while promoting themselves as potential employers."
Some of the world's most prominent companies have confirmed their attendance at the event, including the BBC and financial giants Barclays, Lloyds, and Morgan Stanley. The Nationwide Building Society, RAF, Social Security Scotland and PwC are among the other confirmed exhibitors.
A bumper number of visitors are expected to attend this year's event, with staff from Dundee having worked with counterparts from Abertay University to promote the fair to the student community across the city.
The event takes place in the Bonar Hall, Park Place, from 10.30am–2.30pm on Thursday 3 October. Students and graduates from all universities are welcome to attend and there is no need to book in advance.