Submitted by

karen.duncan

on Mon, 03/29/2021 - 07:20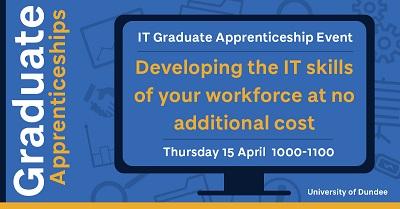 IT is all around us. From interacting with your customers to processing invoices, IT probably plays a key role in your business.
Join the University of Dundee on Thursday 15 April to find out how their fully funded IT Graduate Apprenticeship courses can help you to develop the IT knowledge, skills and experience of your workforce, whilst helping your business grow.
There are no costs involved and courses are available for both current and new employees of all ages.
Sign up today at www.eventbrite.co.uk/e/it-graduate-apprenticeship-event-developing-your-...